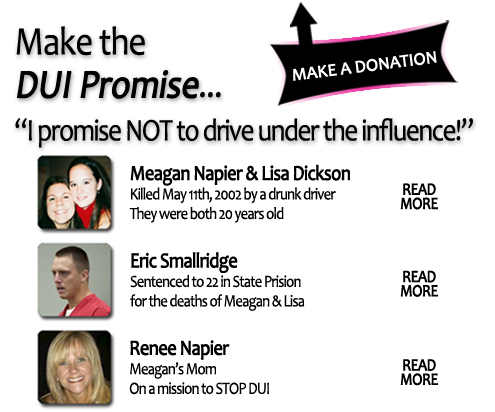 Welcome to the Meagan Napier Foundation website. The foundation is a 501(c)(3) non-profit organization dedicated to the memory of Meagan Napier and her friend Lisa Jo Dickson who were killed by drunk driver Eric Smallridge on May 11, 2002. We have formed this foundation to raise awareness of the dangers of driving under the influence of alcohol and to promote forgiveness and healing. Our families: the Napiers, the Dicksons, and the Smallridges believe it is extremely important to educate everyone about the horrible consequences of drinking and driving. Meagan and Lisa were loved so much and we miss them more than words can say. Their lives were taken in a senseless car crash that could have been avoided. One decision, one moment in time, and many lives were irreversibly changed!
Renee Napier, Meagan's mom, has made it her mission in life to share this story with as many people as possible. She is passionate about saving lives! Since March 29, 2004 she has presented this story to over one hundred thousand people, young and old. In her presentation Renee tells the story, talks about the healing power of forgiveness, shows videos that feature Eric in prison and since April 22, 2010, she has been allowed to have Eric join her as an inmate, bound by shackles and handcuffs, to share his powerful testimony. They conclude with a compelling slide show featuring Meagan, Lisa and Eric. Afterwards, the audience is invited to go outside and take an up close look at Lisa's mangled car... the car in which she and Meagan died.
It is our desire that all who visit this web site will be touched in a positive way. We hope you decide to make a difference in this world by choosing to: NEVER drink and drive, NEVER let your friends drink and drive and NEVER ride in a car with an intoxicated driver. We also hope you will encourage your family and friends to do the same. Make the DUI Promise: "I PROMISE TO NEVER DRIVE UNDER THE INFLUENCE"...Help us STOP DUI!!